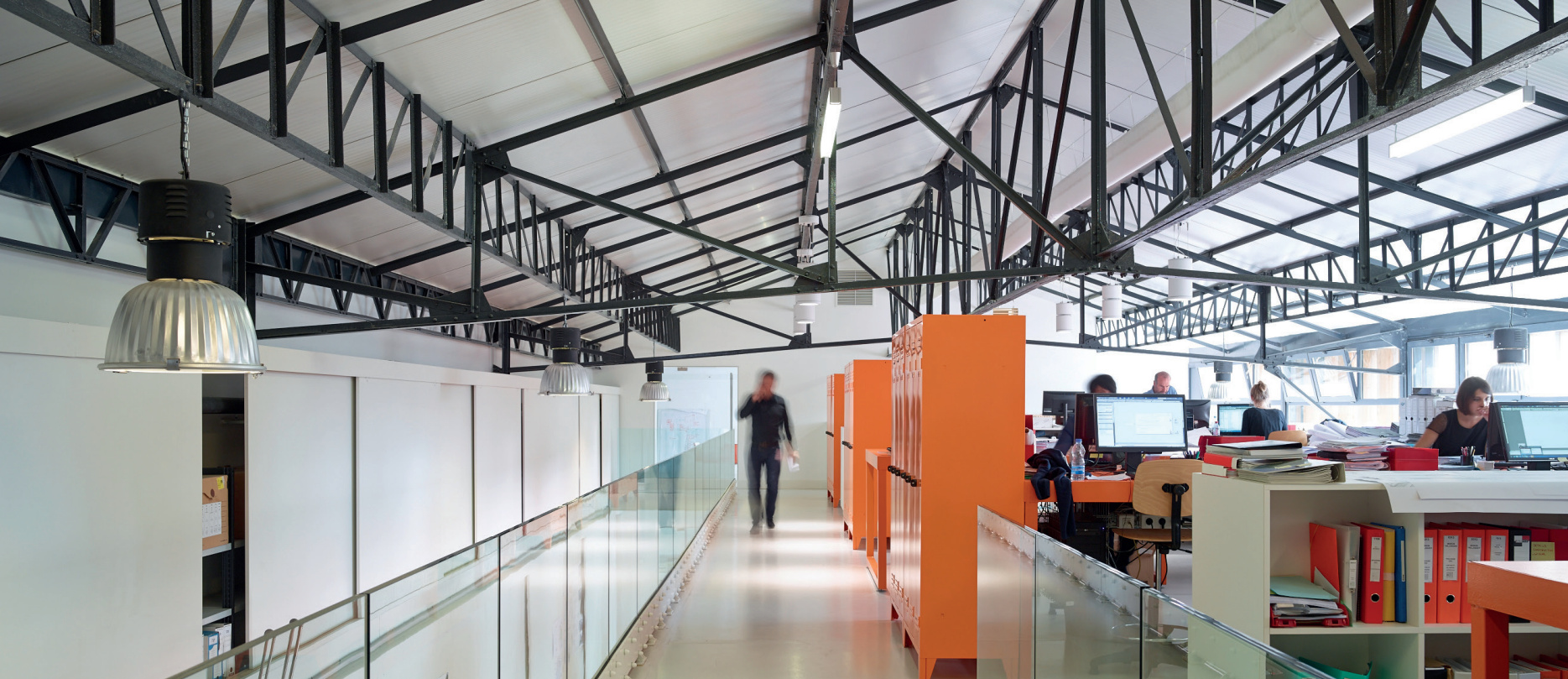 Our DNA
TAILLANDIER ARCHITECTES ASSOCIÉS (TAA) IS AN OPEN-MINDED ARCHITECTURE AND URBANISM PRACTICE, WORKING SIDE BY SIDE WITH PRIVATE AND PUBLIC PARTNERS. TAA UNITES ABOUT A HUNDRED CO-WORKERS IN FRANCE BETWEEN TOULOUSE, BORDEAUX, MONTPELLIER AND PARIS.
The people at TAA give their best to develop architectural solutions aimed to enhance the general experience: regardless of the nature of the project, the answer has to improve the quality of life of the end user and the direct environment. To reach this goal, the approach needs to be well designed and well built. Every step must be taken very carefully within a structured and professional organisation.
Much more than a mere architectural momentum, every project designed by TAA solves a series of equations blending program, user and environmental specifics. To achieve a truly obvious architectural and urban solution, Pierre-Louis Taillandier set up a rational and efficient methodology splitting the project into five dimensions: contextual, intellectual, technical, financial and sensory. 
Every projects systematically starts with an in-depth contextual study – historic, economic, geographic, climatic, social – to anchor the program in the area that hosts it.
Simultaneously, a search for architectural references is organized. It aims to enrich the agency culture and to find an answer through the confrontation of ideas.
In its final steps, the project remains creative and sensory in its approach. In fact, while defending a rationalist logic, Pierre-Louis Taillandier is seeking open-minded perspectives on the world and regularly invites artists to the creative process. Thus integrated in the upstream project, the work of art metaphorically exacerbates the architecture with transparency, light, interiority, colors…
At the end of the analysis, the project, thus defined by an overall consistency, is designed piece by piece by architects and town planners, in collaboration with construction economists and the agency's graphic designers and model makers. Clients are also integrated into the design, so that they can monitor the progress.
Subsequently, thanks to the close collaboration between project managers and works supervisors, projects fully comply with architectural details and clients requirements.
OUR EXPERTS
TAA REGULARLY WORKS WITH EXPERIENCED CONSULTANTS TO IMPROVE ITS PERFORMANCE, WHETHER ON THE ARCHITECTURAL, ACADEMIC OR HUMAN LEVELS.
CHRISTIAN MESTRINER
Christian Mestriner intervenes each week at the agency on the urban law topic. His external, sharp and demanding point of view allows him to provide many technical answers to the problems TAA often deals with from the various Local Urbanism Plans.
Christian Mestriner worked for many years in the urban planning department of the city of Toulouse.
YVES POCHART
With a 35 years old engineering background, Yves Pochart started his career among SOCOTEC agency, first as an construction engineer and secondly as a quality controller. As a temporary lecturer at the ENSA (Ecole Nationale Supérieure d'Architecture) of Toulouse from 1989 to 2007, his expertise includes fire safety, PRM handicap accessibility, acoustics, thermal-HVAC and electricity.
Freelance since 2002, Yves Pochart works for the TAA agency as an independent technical advisor and reviews all types of projects.
JOËL TRÉBERN
TAA agencies are constantly growing while associating quality, innovation and humility, just like their executives. In this context, JHT Performance Conseils seeks to work closely with several TAA stakeholders. JHT Performance's people-centered approach accordingly provides pragmatic and operational answers and advices.
JHT Performance accompanies individually and collectively the TAA Group managers. Its mission: To develop the professional, the person and the structure. The goal: To unleash the management potential, develop a working climate in favour of initiative and strengthen all forms of communication within the agencies.
YVES FELIX MONTAGNE
For more than 15years, his work led him to Psychoanalyse and Educational research fields and to analyse what prevents, disturbs and improve knowledge transmission in schools and colleges.
His collaboration with TAA resides in identifying subjective factors of belonging (symbolic, imaginary and real) between co-workers, which made it difficult working together. This approach brought him to meet TAA teams and to start work on different topics. 
MICHEL NUEVO
Since 1982, Michel Nuevo specialized in land occupation authorisations for public organisations in Toulouse. From 2007 to 2015, as a territorial engineer, he was director of the urban planning department of the community of communes of Fronton.
Strengthened by his experience, Michel Nuevo works with the agency before planning authorisation applications in order to analyse the projects' feasibility (planning rules as well as legal requirements).
TAA BUILDING INFORMATION MODELING
SINCE 2012, TAA INTRODUCED BIM INTO ITS ACTIVITIES.
The agency was able to understand the advantages of BIM very early on, which now allows the team to deal with digital modelisation. By joining forces with a fully dedicated BIM team, the agency is also giving itself the means to meet the requirements of this approach, which is both conceptual and collaborative.
AMSO Consulting thus ensures the continuous training of the project management team and is in charge of the design modelling. Thanks to its close proximity to Taillandier, AMSO can control the conformity and quality of the architectural model throughout its development. Through our BIM Management activity, we also write the charters and conventional framework documents, upon which are based the models. 
We also ensure compliance with the rules thus prescribed, by controlling the uniformity and quality of the actor's modelisation. Our responsibility also includes the detection of conflicts between models. Our action is therefore, like BIM itself, plural. AMSO is thus committed to supporting and summarising the production of data throughout the design elaboration.
HUMAN RESOURCES
A BIM Manager, assisted by a BIM Coordinator and a team of 12 BIM referents, leads the BIM division. This structure ensures the implementation and dissemination of best practices throughout the agency, guaranteeing a high level of modelling, at all scales.
HUMAN VALUES
BEYOND WORK QUALITY, TAA AGENCIES ALSO PROMOTE THE COLLECTIVE AND INDIVIDUAL DEVELOPMENT OF ITS EMPLOYEES.
Team management, in project mode, allows each TAA employee to express their talents to the service of the collective. TAA gives them the means to succeed, with access to valuable technical and human resources: high-performance computer systems, varied libraries, complete operational support, external consultants' advice. Happiness at work within TAA is also praised by simple and direct hierarchical exchanges and clear internal procedures.
TAA OFFERS A BENEFITS PACKAGE:
Free weekly sports sessions given by professional coaches during working hours
Remote work in a sustainable way for all employees
Flexible daily schedules
A monthly meeting called "Sustainable Improvement Day" (JAD in french), for every employee to discuss improvement areas towards better practices in architecture and urban planning
Childcare centres availabilities within the Babilou and Crèches Bleues networks
A monthly sustainable mobility package for soft modes of mobility (bicycle, scooter, etc.)
An employee savings scheme
Meal vouchers
A free and non-binding Employee Club offering many advantages